My Agent Personalization allows your agency to create personalized website links that your agents and producers can send to clients and sales prospects.

When prospects click on these personalized website links, they'll see personalized information about a particular agent in addition to the normal content of your website.

Here's an example of how a website looks without a personalized link, and an example of how it will look when a client clicks on a personalized website link.
Without My Agent Personalization Active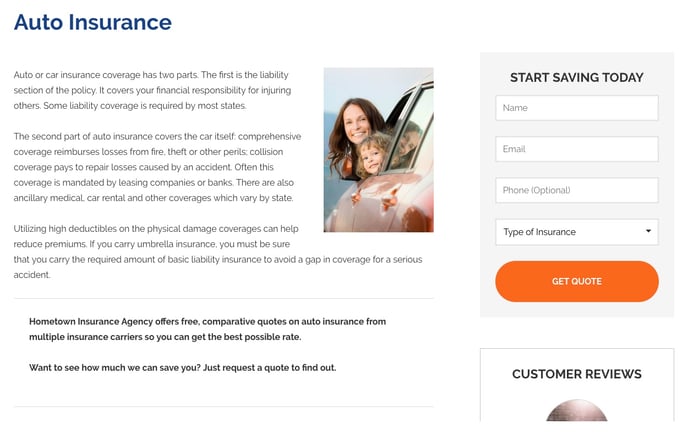 With My Agent Personalization Active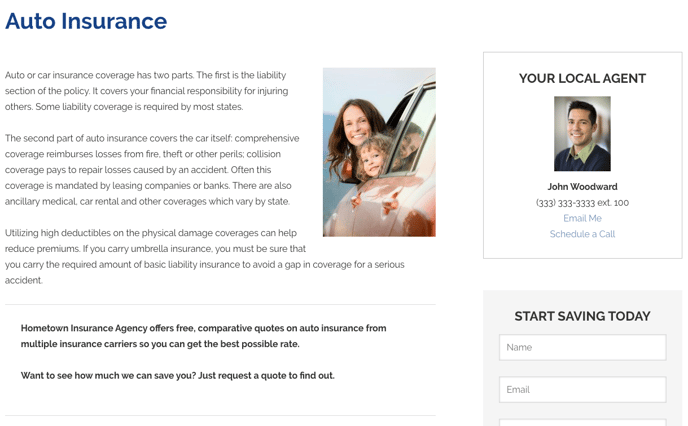 Using My Agent Personalization
Every employee on your website has a default identification method known as a "handle", which is usually their first and last name separated by a hyphen. Without any additional setup, you can use the default handles to send out personalized website links by appending the "@" symbol and the default handle to any link to your website. Here's an example link: https://www.myagency.com/@john-woodward
NOTE: Be sure that your link includes a "/" between the ".com" and the "@" symbol. This link will NOT work: https://www.myagency.com@john-woodward
You also have the ability to create custom handles for your agents!
How to Create Custom Handles
To get started, log in to your website. Once you are logged in, click on "Employees" from the left-hand navigation menu on your website dashboard and select an employee.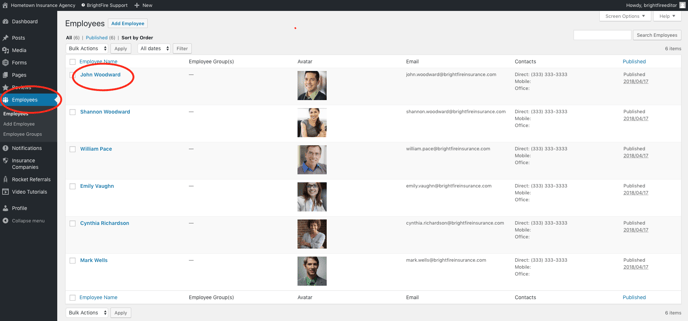 From there, complete the following steps:
Scroll down to the "Customize Your Handle" section and fill the "Custom Handle" field.
Scroll back to the top of the screen and click the blue "Update" button on the top right. If you are making other changes as well, you can wait to click "Update" after you have completed these additional changes.

Now your agent can send out personalized website links using their default handle or their custom handle. Here's an example link if the chosen custom handle was "john": https://www.myagency.com/@john
To preview what information My Agent Personalization will display when you use a personalized link, review the info in the "Your "My Agent Personalization" Information" section. You can choose which phone number you would like to display, and if you need to edit any of your other sections, there are buttons to edit the information. Be sure to click the blue "Update" button at the top right of the page after you have changed any agent data.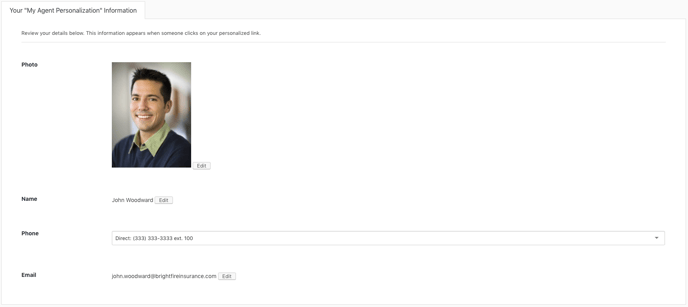 For your convenience, you can quickly copy a personalized link under "Your Personalized Link" near the bottom of the screen. Click the "Click to Copy Your Link" button, then paste your personalized link into an email or other communication to share with prospects.

Test Driving My Agent Personalization
If you would like to test your personalized links before sharing them with your clients, you can easily reset My Agent Personalization by clicking the Reset "My Agent" button on your admin header bar as depicted below. Resetting is helpful when you are setting up this feature for several agents at once and you want to check each link individually.

Frequently Asked Questions
To see an agent's personalized information, will the prospect have to include the Personalized Link Name each time they return to my website?

No. Let's say the same client returns to John's website later. John's personalized information will continue to be displayed, even if the client doesn't return using a link that contains "@john" at the end. The website will continue to display John's personal information for 30 days at a time, and that 30-day clock will reset each time the client revisits the site.
What if a prospect clicks on a personalized link on one device but returns to my website on a different device?

The My Agent Personalization functionality is unique to each device the client uses. If a client visits a personalized link on their smartphone, but later returns to your website on their desktop computer without using a personalized link, they will not see the personalized agent information on their desktop computer. They will, however, still see the personalized agent information on their smartphone.

What if two agents send their personalized link to the same prospect?

If an agent sends a client their personalized link after the client has already clicked on a personalized link from another agent, the personalized link that the client clicked first will take precedence over any new links.

What if an agent's employment is terminated but prospects still have their personalized links?

If you remove an employee from your website, all personalized links tied to them will be disabled immediately. When a prospect visits a personalized link that is disabled, your website will load normally and that employee's information will not be displayed.